Kingston's highly-skilled tree care experts.
Provide high quality services that create the most value for our customers, and use our business to implement environmentally responsible solutions.
We strive to go above and beyond for our clients no matter the challenge. We aim to deliver our very best work every single day across our services.
"Brock came highly recommended by someone I trust four years ago and we have been working with him since. He does a great job, cleans up thoroughly, and takes time to explain what he did. He comes to our place each spring to prune our trees and each fall to prune our cedar hedge and everything looks good and healthy."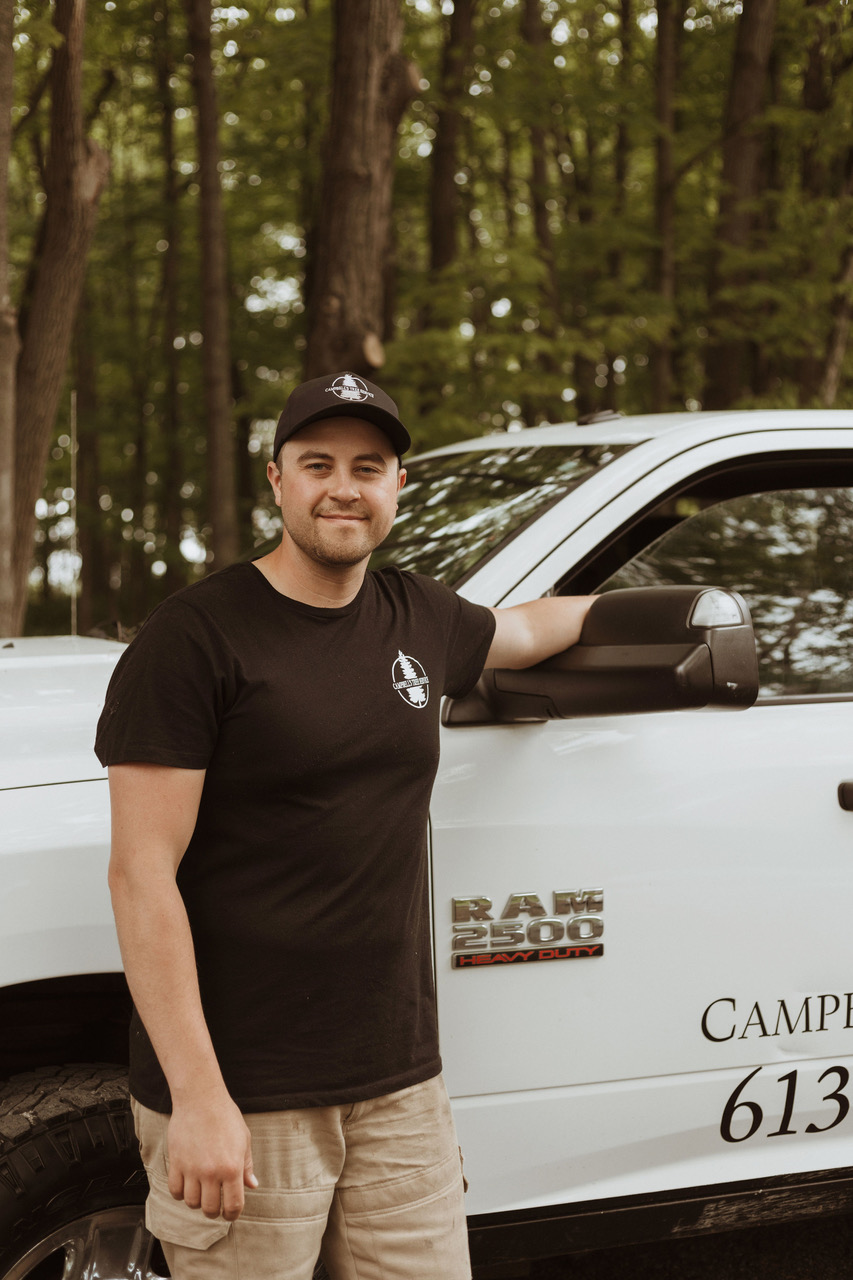 Brock Campbell graduated from Lambton College in 2012 and founded Campbell's Tree Service shortly after. He has been proudly providing the full spectrum of tree services to Kingston and the surrounding area. Brock is highly certified, including:
🌲 10 years as a certified arborist
🌲 Certified through Ontario colleges
🌲 ISA certified
🌲 Utility arborist (live line cleaning)
🌲TRAQ Certified
We cover a wide service area extending from t to Napanee, and north. Some areas we serve include, Kingston, Verona, Sydenham, Bath, Odessa, Yarker, Seeley's Bay, and more. If you're not sure if we cover your area, just give us a call.
Campbell's Tree Service is proud to offer exceptional tree care services to Kingston and the surrounding area. We offer the full range of tree care services including, tree removal, pruning and ISM, line clearing, land clearing, 24/7 emergency storm damage service and stump removal. 
We stand behind the quality of our services 100%. Our business is customer focussed and we strive to ensure that all of our customers are completely satisfied with the level of customer service we provide.
We have been serving the Kingston and surrounding area for over 10+ years and we are ready to help you with your next tree job.
Our customer focus is what sets us apart!
Contact Us Today For Your Free Estimate